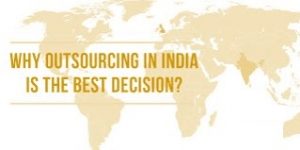 80% of European and US outsourcing firms ranked India, their first preference as outsourcing destination. The National Association of Software & Service Companies (NASSCOM) also reported that almost half of all Fortune 500 companies choose to outsource to Indian firms. Even though many other countries have emerged as major competitors,
India has managed to outflank all others and emerge as the top outsourcing destination. Here are few factors supporting the facts,
The Indian Government is supportive
Government offers attractive policies to carry out business in India
Indian companies provide the quickest time to market
Manufacturing destination with flexible pricing
The huge technical and professional talent pool in the world
Consistent high quality services
Growing tremendously in manufacturing, technology & infrastructure
Differentiators like attractive government policies, fast-developing infrastructure, growth of manufacturing industry and an immensely talented work force are responsible for the Indian outsourcing industry continuing to experience a tremendous growth rate of 25–30% per year.